Exactly 20 years ago, the
CADforum.cz
web portal by CAD Studio was started, then only as a web interface of the existing e-mail discussion forum for users of Autodesk CAD software. Over time, the portal has expanded to include additional sections and features - a CAD knowledge base, a library of CAD/BIM blocks, a download pool of CAD utilities, a database of AutoCAD commands and variables, videos and training materials, a physical unit converter, online STL and other CAD format converter, map coordinate converter with geocoding, an overview of service packs for Autodesk products, online nesting applications, and more.
Today, this portal has over 93.800 registered users from Czechia ad Slovakia, plus another 834.800 registered users from all over the world in its English version. It records over 1.3 million displayed pages monthly.
Autodesk Group Network
lists CADforum.cz as the world largest online community for Autodesk products' users (more than 2x larger than the official AUGI -
Autodesk Users Group International
).
The original look of the website from the deep archives of the Wayback Machine:
and the English version of it, added a couple of years later: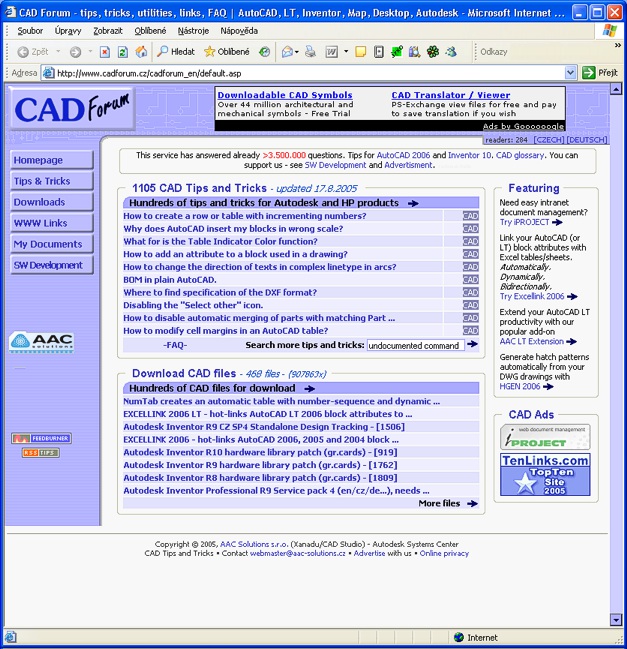 From time to time, we reward the most active members from the Czech forum on CADforum.cz, because it is the questions of users and the answers of more experienced ones, that bring one of the most useful information resources on this portal. On the occasion of the 20th anniversary, we are restoring this tradition and a quick look into the
forum statistics
we can easily find out that these gentlemen can now look forward to a gift package from CAD Studio: